Tower of London
Book your guided tour and entrance ticket to the Tower of London, and skip the line at the box office!

The Tower of London is of course mostly know for the Crown Jewels and The Beefeaters, but attractions like "The White Tower", "The Bloody Tower" and "The Traitor's gate" all manage to add to the incredible experience as you discover the towers 900 years of history.

NB: The tickets (etickets) sent to you need to be exchanged for standard tickets. This is done at the Tower of London. Please remember that the person booking the tickets must bring a picture ID (passport will do) in order to collect your entrance tickets. Choosing Your Tickets Select the date you arrive in London as the "Valid From" date as the tickets are valid for 1 month from the "Valid from" date you select. Choose the number of tickets and click on "SEARCH". Then simply select either "Adult" or Child" tickets (Children aged 5-15 years qualify for child tickets). Children younger than 5 years are free as long as an adult accompanies them. Tickets to other tours and attractions may be added at this stage.

Fantastic
4.5
2 customer reviews
Well worth a visit
The Crown Jewels are spectacular, the armoire and torture instruments are fascinating.
Make sure you hear the Yeoman's introductory talk - very informative and entertaining.
Really accessible, very close to Tower Hill tube station.
A fantastic piece of wonderfully preserved history
The Tower of London is truly a must on any trip to London - Its location and position beside Tower Bridge is stunning and if viewed from the opposite side of the Thames a beautiful photo opportunity. We had booked ahead on Londontickets.ie which saved any queuing to buy on the day - as it happens the buy on the day queues were short and no wait to get into the Tower but at a busier time of year, buying ahead would be invaluable. We took the tour with one of the Yeomen (Sean) who was very informative, funny and added many "stories and insights" to the experience that we would otherwise have missed had we gone around on our own - would definitely recommend taking the tour (approx. 1 hr) - As you stand in the various courtyards and buildings, it is hard to believe what took place all those years ago as today its peaceful, beautiful and a sight to behold - needless to say, the Crown Jewels were stunning, the armorie very interesting, we gave the Torture Tower a miss and the onsite Café is very good indeed. All in all, well worth a visit and a must see in my book !!!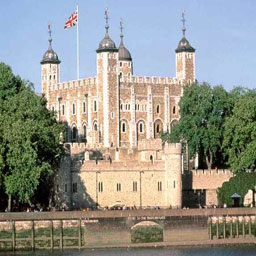 Info
Tower of London
Address
Tower of London,
Tower Hill
London, EC3N 4AB


View map
Business hours
March-Oct: Last admission at 17.00pm
Tue-Sat: 9.00am-17.30pm
Sun-Mon: 10.00am-17.30pm

Nov-Feb: Last admission at 16.00pm
Tue-Sat: 9.00am-16.30pm
Sun-Mon: 10.00am-16.30pm

Underground
Tower Hill station - District/Circle Line
Bus lines
15, 42, 78, 100, RV1